Chapter 11 – Activism Enabling Responsible Management, Sustainability and CSR
"Sustainability is a political choice, not a technical one. It's not a question of whether we can be sustainable, but whether we choose to be" (Gary Lawrence)
"The best way to predict the future is to invent it." (Alan Kay)
In this chapter you will accomplish the following learning objectives:
understand how conceptual frameworks such as purposeful organizations and individual sustainability mindset are linked;
reflect on the variety of perspectives that may be used for responsible management, sustainability and CSR in organizations.
Mindset has multifarious connotations at present, but it was developed by Carol Dweck1
by contrasting different beliefs about where our abilities came from. The concept got popularised with publication of her book on Mindset in 2006. Sustainability mindset has been defined as "a way of thinking and being that results from a broad understanding of the ecosystem from social sensitivity, an introspective focus on our personal values and higher self and finds its expression in actions for the greater good of the whole"2. Sustainability
mindset has been garnering attention of academia and industry in recent years due to growing concern about ecological and societal dimensions, as the purpose of business has undergone change over time from common wealth (self-interest & rational self-interest) of Adam Smith3 to shareholder interest (Alfred4, 1999) and further to stakeholder interest (Freeman5, 1984). Also, focus has shifted to business practices concerned with environmental degradation, climate change and alternative energy.
Sustainability, with multiple perspectives, has a long history but it acquired centre stage in 1983 when United Nations created the Brundtland Commission (6) to unite countries in pursuit of sustainable development. It defined development as sustainable "if it meets the needs of the present without compromising the ability of the future generations to meet their needs". The Brundtland Commission published a report in 1987 'Our Common Future' (7) which highlighted that human resource development in the form of poverty reduction, gender equity, and wealth redistribution was imperative to developing strategies for environmental conservation, and that environmental limits to economic growth in industrialized and industrializing societies. A number of developments have taken place during the past two decades or so. Elkington (8) introduced the concept of triple bottom line, referred to as 3Ps- people, profit and planet.
At a UN summit in 2000 eight measurable goals, called Millennium Development Goals (MDGs) were signed by leaders of 189 countries to be achieved by 2015. Substantial progress was reported regarding the MDGs by the target date. In 2015 UN General Assembly Open Working Group (OWG) proposed a document containing 17 goals to be placed for the approval of General Assembly. This document formed the basis for 17 SDGs as the global development agenda to be pursued during 2015-2030 (https://www.sdgfund.org/mdgs-sdgs). Hence concerted efforts are being made to work towards these. The recent trends around sustainability are: reduction in energy consumption, microgrids for secure and reliable power supply, green grids for green energy, sustainability reporting, plant-based diets, water conservation and net-zero initiatives. Companies are manufacturing electric cars and two-wheelers and making climate commitments and commitment to carbon zero initiatives.
Industry alone cannot achieve the SDGs, academia which provides human capital to industry needs to be a partner in this endeavour. Management education has been under scathing attack from various quarters for its focus on knowledge on skills for maximising profits which were leading to unhealthy competition and ethical issues. Mintzberg (9) in his 2004 book Managers Not MBAs has been critical of the thrust in management education and Sumantra Ghoshal (10) in 2005 raised questions regarding management theories as the basis of management education. In the above scenario responsibility and sustainability need to be the dominant paradigm in management education which can be built on Principles of Responsible Management (PRME). The question is of operationalisation of PRME principles in management education for sustainability mindset. Sharma (11, 12,1 3) has developed a competency model, CAMB integrating PRME principles which is being used across geographies for developing sustainability mindset for sustainable development (14). As business schools prepare human capital for industry, they are best positioned to inculcate sustainability mindset leveraging technology and innovations.
References
(1) Dweck, Carol (2006). Mindset: the new psychology of success (1st Ed.). Random House.
(2) Kassel, K. Rimanoczy, I & Mitchell,S.F. (2018) A Sustainability Mindset Model for Management Education. Developing a sustainability mindset model for management education (pp.3-37) Routledge.
(3) Adam Smith. (2008). An Inquiry into the Nature and Causes of the Wealth of Nations. OUP Oxford.
(4) Alfred, Rappaport (1999). Creating Shareholder Value: The New Standard for Business Performance. Simon and Schuster. ISBN 9780684844565. Retrieved 2021-07-03.
(5) Freeman, R.E. (1984). Strategic Management: A Stakeholder Approach. Pitman.
(6) United Nations. (1983). Process of preparation of the Environmental Perspective to the Year 2000 and Beyond.
(7) The Brundtland Commission: World Commission on Environment and Development (1987). Our Common Future. Oxford University Press.
(8) Elkington, J. (1994). Towards the sustainable cooperation, Win-Win-Win Business Strategies for Sustainable Development, California Management Review, 36(2), 90-100.
(9) Mintzberg, Henry. (2004) Managers, Not MBAs Berrett-Koehler Publishers.
(10) Ghoshal, Sumantra (2005) Bad Management Theories are destroying Good Management Practice, Academy of Management: Learning & Education, 4(1), 75-91
(11) Sharma, R. R. (2017). A Competency Model for Management Education for Sustainability. Vision, pp. X-XV. https://doi. org/10.1177/0972262917700970
(12) Sharma, Radha R. & Sharma, K. (2021). Imparting PRME Principles in Management Education through CAMB Competency Model: The Role of Artificial Intelligence. In Principles of Responsible Management Education (PRME) in the Age of Artificial Intelligence (AI) – Opportunities, Threats, and the Way Forward, Agata Stachowicz-Stanusch, Wolfgang Amann; Radha R. Sharma, & Fauzia Jabeen (eds.), (pp. 9-25). IAP– Information Age Publishing, Inc. Charlotte.
(13) Sharma, Radha R. & Pardasani, R. (2021) Sustainability Mindset through Ethical Leadership & CAMB Competencies. In Aixa A. Ritz & I. Rimanoczy (Eds,) (pp. 141- 156), Sustainability Mindset and Transformative Leadership, Palgrave Macmillan; NJ.
(14) Sharma, Radha R. (ed.) 2021. Handbook of Sustainable Development: Strategies for Organizational Sustainability, Business Expert Press.
In this final chapter, we explore prescriptive and normative ways to incorporate responsible management and corporate social responsibility into organizations. The main part of this book explored relationships between RM and CSR and theory, societal context in Canada, and sustainability both from a Canadian and global perspective. It is expected that most graduates from an institute of higher learning will ultimately be engaged with an organization – be it a for-profit firm, a not-for-profit entity, a non-governmental organization, a government, or an ad hoc group of people with similar interests.
Sharma's introduction to Sustainability Mindset for the Review of Professional Management given in this chapter's example section above, describes one of the fundamental requirements for responsible management through exercising purpose, and that is a sustainability mindset (1). Consider 'purpose' in the sense explained by Houston and Pinches (2) as a motivational driver for an individual within any organization. Matching an individual purpose with the organization's purpose is one of the three pillars that are needed to drive the purposeful organization as illustrated in Figure 1. Houston and Pinches (2) reflected a practitioner view of having a purposeful enterprise by focusing on a holistic and systemic view of organizations. Based on a lifetime of consulting work, both Houston and Pinches (2) reflected that people will be committed to an organization when their own purpose matches that of the organization. This purpose is embodied through the organizational culture and the brand message that the organization exhibits.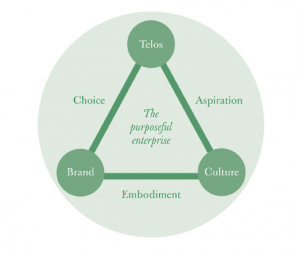 Embedded within this purpose will be the need to achieve a sustainability mindset (3).  This conceptual framework shown in Figure 2 describes four components of a sustainability mindset as the ecological worldview, a systems perspective, spiritual intelligence and emotional intelligence.  The ecological worldview can be described by an individual's perceived contribution and their ecoliteracy.  The systems perspective can be described by an individual's long term thiking, their perception of flow, their 'both+and' (systemic) thinking, and their perception of interconnectedness. Their emotional intelligence can be described through their perception of creative innovation, reflection, and self awareness.  Their spiritual intelligence can be described their sense of oneness with nature, their mindfulness, and their sense of purpose (3).  In this way, purposeful companies are composed of individuals with their sustainability mindset.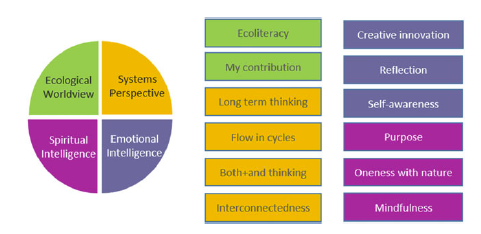 Implicit in that discussion of purpose and mindset is the consideration of stakeholders as critical to the existence and societal acceptance of the organization. As previously discussed, the stakeholder view of an organization incorporates the resource based view of the firm where their success depends on the appropriate allocation of resources and their consideration of external competitive pressures.
Organizations with purpose still need to define themselves among other ones – if not for promoting valuable services or products then for legitimacy. It all starts with an organizational vision with a purposeful message that stakeholders support. Then this vision is implemented through a mission that details strategies to address the long-term vision of the organization. The resource-based view of the firm suggests that defining a core competence will provide a differentiation for the organization in its societal environment. This core competence is defined through the acronym VRIO which allows the stakeholders in the organization to recognize the value that they provide to others and in a competitive world, provides a signal for others to support a common interest.
The question is often asked whether CSR or sustainability led initiatives will help organizations define themselves or position themselves uniquely in society.
The premise is that it is easier to build a purposeful enterprise if a sustainability mindset of CSR is built into the core of the organization at the very start. For businesses that are established, revisiting their core mission may be more difficult to address than for new entrepreneurial organizations but in either case, it may be possible to improve financial performance by addressing some of the pillars that underlie responsible management.
For organizations that are not-for-profit and for those that are for-profit, the pre-eminent concern today is about sustainability as has been described earlier in this book. An organization, as a sum of its members, needs to incorporate a sustainability mind-set through the individuals that lead the organization.
Is it important? In the age of ubiquitous social media, it is critical to signal to all stakeholders that you, as an organization or as a member of an organization, are actively concerned with the 5Ps of sustainable development, discussed earlier in this book and embodied in the UN's 17 Sustainable Development Goals – planet, prosperity, people, peace and partnerships. Many major global consultants emphasize the link between ESG and success; and stakeholder acceptance. NGOs and social entreprises with 'social' in their core mission are increasingly active in making a difference.
For example, some organizations as businesses have embraced the concept of conscious capitalism as an active way of making a difference (https://www.consciouscapitalism.org/). The four principles for conscious capitalism in businesses are (1) to aim for a higher purpose, (2) to have a stakeholder orientation, (3) to have concious leadership, and (4) to have a conscious capitalism (taken from the philosophy of conscious capitalism in their organizational website).
Other businesses led by social entrepreneurs signal to society at large the importance of making a difference by contributing to society and to their own success.  Leaders in this domain can be seen through the Ashoka Fellowship and their mentoring of social entrepreneurs (https://www.ashoka.org/en-us/program/ashoka-fellowship).  Institutes of higher education partner with private businesses and societal groups to promote the Principles for Responsible Management in Education (PRME) initiative (https://www.unprme.org/). Some initiatives include initiatives such as AIM2Flourish.com (https://aim2flourish.com/) to promote local flourishing businesses and the SDGs coordinated through Case Western University in Ohio. The AIM2Flourish initiative promotes the flourishing of innovations among small businesses as a way to address the UN SDGs and to make a difference. Another example of impactful organizations can be observed through the actions of ENACTUS (https://enactus.org/) which provides a platform for students to explore social entrepreneurship as an extra-curricular activity.
Non-aligned groups of individuals (loose informal organizations) led by public figures such as Greta Thunberg take activism to the streets and demand change from decision makers. (View the 11 minute video of Greta Thunberg at a recent TedTalk.)
"The Disarming Case to Act Right Now on Climate Change" is available from ted.com and is licensed under CC BY-NC 4.0
Many other loosely-formed and informal organizations across the world try and make a difference in their local settings.  These organizations can be incorporated as charitable groups, they can be social entreprises or informal groups such as Crowd-doing (https://www.crowddoing.world/) which attempts to gather like-minded people to make a difference on relevant topics such as the UN SDGs.
There is a recognition of indigenous considerations in Canada and other countries and an awareness that certain ways of living may promote sustainability in a more holistic manner. This awareness of the differences in perspectives between neo-colonial ways of approaching the world and indigenous viewpoint, has caused many people to reflect and approach relationships with each other and the world in incrementally more humane ways. There is still a problem with inequity and living conditions among indigenous communities in Canada. Similarly, there is still a problem with equity, diversity and inclusivity across the global societies. But as the Truth and Reconciliation committees in Canada, in South Africa, in Rwanda, and in other conflicted areas of the world, have determined, the first step towards progress and reconciliation is to recognize the unfairness of what has been done, give voice to those who did not or do not have the power to have a voice, and then to promote inclusivity and acceptance within societal groups.
In the end responsible management of organizations depend on stakeholders, inside and outside the organization. Regardless of legislation and recommendations, it ultimately falls to the individual to consider their world, their purpose within this world in the context of the existential survival of the planet and to step into making a difference within a for-profit business, a not-for-profit organization, or a governmental or other organization.
It is not just ethical but moral to do this.
Your key takeaways may be that:
responsible management integrates a variety of perspectives from individuals,
that outcomes of sustainability and CSR begin with individual actions that impact organizational behaviour.
As we continue to wrestle with linking the SDGs with CSR action, it may be wise to look back at recent literature reviews that highlight challenges and issues between the two interlinked concepts as described by ElAlfy et al. (2020):
ElAlfy, A., Palaschuk, N., El-Bassiouny, D., Wilson, J., & Weber, O. (2020). Scoping the evolution of corporate social responsibility (CSR) research in the sustainable development goals (SDGS) era. In
Sustainability (Switzerland)
(Vol. 12, Issue 14). MDPI.
https://doi.org/10.3390/su12145544
Some readers may be interested in the specific intersection of CSR with politics and so a read of Lyon et al. (2018) illustrates the importance of assessing this aspect of organizations:
Lyon, T. P., Delmas, M. A., Maxwell, J. W., Tima Bansal, P., Chiroleu-Assouline, M., Crifo, P., Durand, R., Gond, J. P., King, A., Lenox, M., Toffel, M., Vogel, D., & Wijen, F. (2018). CSR needs CPR: Corporate sustainability and politics.
California Management Review
,
60
(4), 5–24.
https://doi.org/10.1177/0008125618778854
The perspective of investors is also important, particularly when dealing with their involvement as financial stakeholders. Do they take care about a firm's involvement with the Principles for Responsible Management? Majoch, Hoeppner, and Hebb (2016) claim that there are pragmatic reasons for investor concerns:
Majoch, A. A. A., Hoepner, A. G. F., & Hebb, T. (2017). Sources of Stakeholder Salience in the Responsible Investment Movement: Why Do Investors Sign the Principles for Responsible Investment?
Journal of Business Ethics
,
140
(4), 723–741.
https://doi.org/10.1007/s10551-016-3057-2
Does major global events such as COVID-19 impact sustainability performance?  Bose et al. (2022) suggest that when stakeholder value is a central tenet of the organization, then its sustainability and overall performance is less affected:
Bose, S., Shams, S., Ali, M. J., & Mihret, D. (2022). COVID-19 impact, sustainability performance and firm value: international evidence.
Accounting and Finance
,
62
(1), 597–643.
https://doi.org/10.1111/acfi.12801
Finally, where is CSR going?  Wickert (2021) explores this question in the context of the Journal of Management Studies and finds a shift from focusing on businesses but rather on the broader organization and so the importance of responsible management and leadership becomes important in this shift to a societal focus:
Wickert, C. (2021). Corporate Social Responsibility Research in the Journal of Management Studies: A Shift from a Business-Centric to a Society-Centric Focus. In
Journal of Management Studies
(Vol. 58, Issue 8, pp. E1–E17). John Wiley and Sons Inc.
https://doi.org/10.1111/joms.12775
Take some time to reflect on how you would answer the following questions:
How does an organization reflect/show/embody their purpose and why is this purpose important to signal to stakeholders?
What is the stakeholder view of an organization?
What is the main purpose for an organization in identifying their mission?
What is meant by a sustainability mindset and why is it important for any type of organization to have?

What do you believe is the link between ESG and organizational success or failure?

Reflecting back on this whole textbook what do you believe responsible management depends on?
References used in the text – you are encouraged to consult these references through your institutional library services or through the internet
(1) Rimanoczy, I. (2017). Chapter 9. Developing the sustainability mindset. In Handbook of Sustainability in Management Education (pp. 221–241). Edward Elgar Publishing. https://doi.org/10.4337/9781785361241.00019
(2) Houston, C., & Pinches, J. (2017). For Goodness' Sake: satisfy the hunger for meaningful business (2nd Ed.). Chris Houston & Ogilvy & Mather.
(3) Ritz, A. A., & Rimanoczy, I. (Eds.). (2021). Sustainability mindset and transformative leadership: a multidisciplinary perspective. Springer Nature.